500,000 euros and eternal glory: these were the stakes in the grand finale of Knokke Hippique 2022. The Rolex Grand Prix, presented by Audi was truly an event to remember. 14 of the world's best 20 riders, including the entire top three, competed in Knokke-Heist. The public clearly didn't want to miss a thing.
Although the competition only started at 2 p.m., the idyllic event site was already buzzing with excitement in the early morning. Thousands of horse fans and sports enthusiasts eagerly awaited the moment supreme.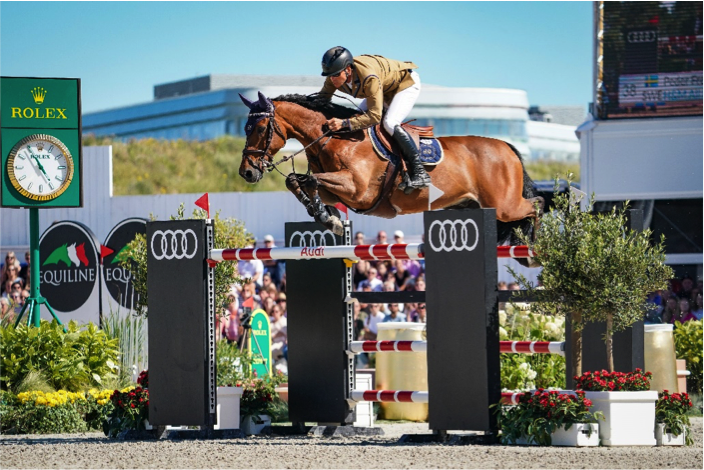 A challenging course
The course by top Italian designer Uliano Vezzani was challenging. Halfway through the Grand Prix, only four riders had managed to break his code: Bernardo Alves (BRA | Mosito van het Hellehof), Henrik Von Eckermann (SWE | King Edward), Maikel van der Vleuten (NED | Beauville Z) and Christian Ahlmann (DL | Mandato van de Neerheide).
In the second half of the competition it took some time for a new combination to clear the course. When Jessica Springsteen and the mare Rmf Zecilie glided smoothly through the course it seemed like the sixth clear combination was a fact. Unfortunately their round turned out to be 4 hundreds of a second to smooth and they missed the jump-off.
Then the best horse in Olympic history galloped into the arena. H&M All In is a living legend with Belgian roots. The equally legendary Peder Fredricson guided him through the course in impeccable fashion: the fifth clear round. Kendra Claricia Brinkop and Do It Easy also joined the select group of jump-off contestants after a strong performance. But the home crowd was still waiting for a Belgian clear round. Their last chance: Jérôme Guery. Quel Homme De Hus calmly galloped into the arena, cleared jump after jump and yes! Finally! The crowd exploded in cheers! The seventh and last clear.
The jump-off
Banging music, the crowds on the tips of their toes: it's Jump-off time.
First up: Bernardo Alves and Mosito van het Hellehof, a duo in exceptionally good shape. They won the first CSI 3* Grand Prix of Knokke Hippique and delivered a strong performance in the course. Yes: clear and fast!
Second combination: Henrik Von Eckermann and King Edward. This Belgian horse that has often made his homeland proud, is very popular with the Knokke Hippique audience. But unfortunately: one down.
Then it is up to the Netherlands. Maikel van der Vleuten and Beauville Z cleared jump after jump. No faults, but just a bit too slow to beat Bernardo.
Then All In and Peder Fredricson galloped into the Zoute Plage arena. There is just no stopping them? With a fast an immaculate performance they take the lead.
But the next rider, Kendra Claricia Brinkop, has clearly come to win. Do It Easy flies to the last Rolex oxer, but it was one jump to many. After an exceptional jump-off, she has to settle for 4 penalty points.
And then: icy silence interrupted by nervous cheering. Jérôme Guery and Quel Homme de Hus enter the arena. The collective heart of the Belgian public is beating at lightning speed as the duo ride a perfect course. They race to the last Rolex oxer. But no! The rail drops to the ground.
The Rolex Grand Prix, presented by Audi, goes to the unbeatable Peder Fredricson and H&M All In.
Reactions after the Rolex Grand Prix, presented by Audi
« Age doesn't matter, » a delighted Peder Fredricson said after the jump-off. « H&M All In may be 16 years old but he is still a winner. He got a break for a few weeks and participated in a small competition last week to warm up again. Today was our day. I am immensely happy. »
Number 2, Bernardo Alves was especially proud of Mosito van het Hellehof: « It was his first competition at this level and he almost managed to win it. » Even before Jérôme Guery entered the arena for his jump-off, the audience was already applauding: « I wanted to make my home crowd proud and felt a lot of support 
from them. That's why I took extra risks. In the last line I wanted to take a stride less but I didn't see the distance and that is why I missed the Rolex oxer. »
The organisers also thoroughly enjoyed today's Rolex Grand Prix powered by Audi. Stephan Conter: « It not only makes us proud to welcome so many top riders, but also to see how they fought for victory. That means a lot to us. The great thing about our sport is that you don't know what will happen until the battle is over. That is why we continue to organise our competitions with so much enthusiasm. »
CSI 2*: Charlotte Bettendorf wins the Grand Prix, Kendra Claricia Brinkop is Leading Rider once again
This morning the last CSI 2* Grand Prix of Knokke Hippique 2022 (presented by Lieven Hendrickx Horse Supplies) was on the agenda. It was Charlotte Bettendorf and the gelding Babacool (Tlaloc M x Urbain du Monnai) who made the Luxembourg anthem resonate in the Zoute Plage arena. She managed to beat Kim Emmen (NL | Edger) and Max Wachman (IRL | Ikaros). After the Grand Prix, Kendra Claricia Brinkop (DL) was crowned leading rider of the CSI2*. Yesterday she was also awarded the title of Leading Rider in the CSI3* circuit.
Philip Houston, best young CSI-rider of Knokke Hippique 2022
In partnership with Hermes, Knokke Hippique set up the Young Talent circuit a few years ago. The circuit was created to honor the best young (U25) rider of the event. This year, it was Germany's 24-year-old top talent Philip Houston who snatched the title.
Congratulations Philip, did you come to Knokke with this prize in mind?
« On the first day I saw that there was a ranking for the U25 riders. I immediately gave it my all to win the Hermes Young Riders circuit. So I am very pleased. »
What was your highlight of Knokke Hippique 2022?
« Definitely the CSI3* Grand Prix yesterday where my mare Sandros S Bella had a double clear and we came second. »
What is your biggest dream as a young, promising rider? 
« Easy question: I want to ride Nations Cups. To represent my country in such a special competition seems really great. Hopefully I'll manage to do that one day in Knokke. »
Press Release