The star parade has begun. With the 5* week kicking off at Knokke Hippique, the biggest show jumping stars have arrived at the exciting equestrian event on the Belgian coast. Among them are also quite a few Olympic champions. And one of them already won the first qualifier for the Rolex Grand Prix, presented by Audi.
During a 1.50m speed course, 14 of 30 participating riders went clear, but none did it faster than Olympic champion Henrik von Eckermann and the KWPN mare Iliana (Cardento 933 x Gentleman). Willem Greve and Highway M TN (Eldorado Vd Zeshoek x Black Walter) finished in second place and Max Kühner was third with Elektric Blue P (Eldorado Vd Zeshoek x For Pleasure).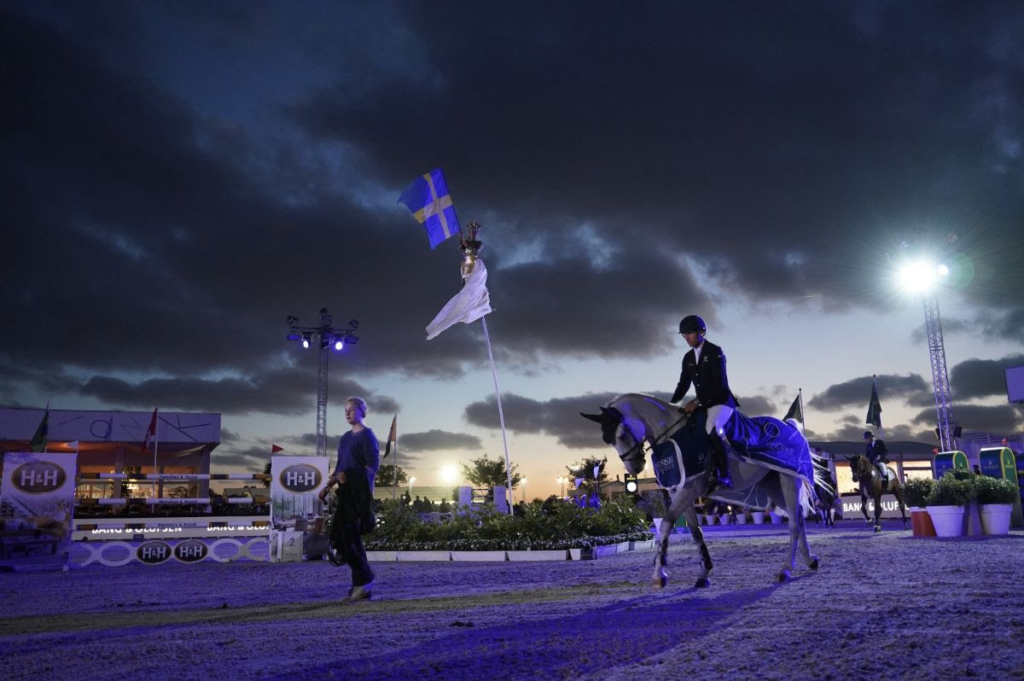 Belgium starts in pole position in the Henders and Hazel Nations Cup
During the qualification, a lot of world famous stars proved to be in great shape. So tomorrow's Henders and Hazel Nations Cup, in which 36 international top riders and 9 countries will compete, will certainly be spectacular. This afternoon the starting order was determined. Home country Belgium got the ninth and last starting position. The team has made a big impression in recent months and chef d'equipe Peter Weinberger is in it to win it: « If I didn't want to win I wouldn't be doing a good job. The atmosphere in the Belgian team is great. They fight together. That is their greatest strength. With the great atmosphere at Knokke Hippique in the mix, we could definitely succeed.« 
Besides Belgium, Germany, Ireland, the United States of America, the Netherlands, Brazil, Italy, France and Sweden are also taking part. So be sure to come and enjoy the Henders and Hazel Nations Cup tomorrow or to follow the competition live on Sporza (Belgian National TV) and ClipMyHorse.tv.
First 5* victory goes to Ludo Philippaerts and Obama de La Liniere
« It had been a while since I took part in a 5* competition, so I was fully committed, » shared an extremely combative Ludo Philippaerts after the first 5* class of Knokke Hippique 2022. He was simply unbeatable this afternoon. With the only 8-year-old BWP stallion Obama de La Liniere (Marius Claudius x Golden Hawk | Breeder: Jeroen Lissens), he completed the two phases of the 1.40 meter course with lightning speed and without faults. The numbers 2, Rene Lopez Lizarazo and Kheros Van'T Hoogeinde (BWP | Echo Van T Spieveld x Darco) needed even 5 seconds longer to complete the course. Denis Lynch and Brooklyn Heights (BWP | Nabab de Reve x For Pleasure) finished in third place.
« This is Obama's first 5* competition, » Ludo added. « For sure this young stallion has a lot of potential. Next year you will surely be able to catch us in the highest classes."
Inès Van Den Bosch and Paris van de Berghoeve win today's Future Stars competition for 7-year-old horses
Knokke Hippique is not only packed with international top-class competitions. It is also a learning school and showcase for ambitious young riders and promising sport horses. For three weeks 5-, 6- and 7-year-old horses compete in a series of challenging competitions.
6-year-olds
This morning, the 6-year-olds opened week 3 of Knokke Hippique in the main arena. With 15 clear rounds in the two phases of the competition, they were clearly in good form. Mattheus Corréa and the Zangersheide mare Chic Olympique de Kreisker Z Imperio Egipicio (Cornet Obolensky x Tinka's Boy | Breeder: Elevage De Kreisker) were victorious with almost 3 seconds to spare on Aniek Diks and Limelight AD (KWPN | Emir R x Diarado | Breeder: A.A.J.M. Diks). Josch Löhden and the Holstein gelding Claus CM (Clearway x Caretino 2 | Breeder: Bernd Carstensen-Moeller) finished third.
7-year-olds
In the competition for 7-year-old horses, victory went to Inès Van Den Bosch and the BWP mare Paris van de Berghoeve (Quickly de Kreisker x Calvaro). They were also very successful during week 2 of Knokke Hippique: « Last week Paris jumped clear in every class. We only had one fault in the jump-off of the final. That's why I decided to raise the bar a bit this week and compete for the win. And we succeeded immediately, even though Paris doesn't have that much experience at this level yet. She's just such a talented horse! » Inès is part of a very passionate horse family. « Paris van de Berghoeve was bred by my uncle Paul Van Den Bosch, » says Inès. « I started training Paris a year ago. She is developing very well. I hope to participate in the Belgian Championship but I am also aiming at the World Championship in Zangersheide. Why not?! During these 3 weeks at Knokke Hippique our horses learn an awful lot. So this is the ideal opportunity to prepare for Lanaken. But not only the athletic aspect makes Knokke Hippique a great experience for me. Our whole family comes here to support me and to enjoy the coastal area. The ideal mix to start the summer with! »
Press Release