Gerrit Nieberg risked all today in the Rolex Grand Prix of Aachen, a risk that his much more experienced colleagues didn't dare take. His reward: He achieved what his famous father didn't manage to do in spite of all his achievements: He won the Rolex Grand Prix. But even after the prize-giving ceremony he still couldn't quite believe it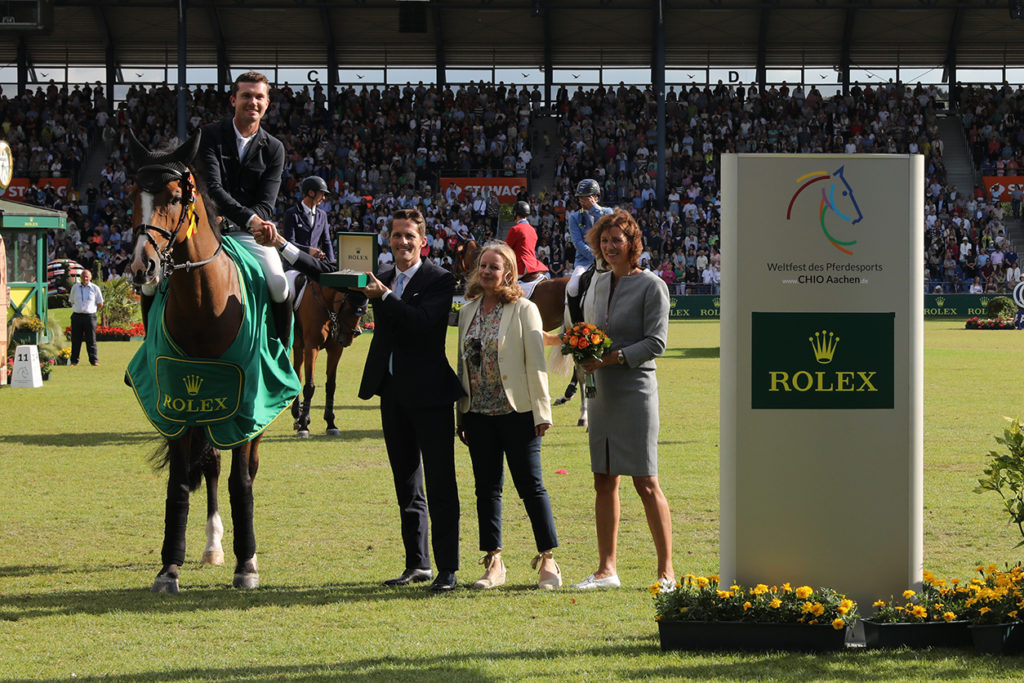 Two difficult rounds in the Rolex Grand Prix 2022 had taken their toll. Ultimately, five riders reached the jump-off: McLain Ward (USA)' with HH Azur; last year's winner the contender for the Rolex Grand Slam of Show Jumping, Daniel Deußer with Killer Queen, the only rider in history who has won the Rolex Grand Slam to-date, Scott Brash (GBR); Nicola Philippaerts (BEL) with Katanga van het Dingeshof and Gerrit Nieberg with Ben.
Ward was the first to go. He already rode to victory early this week in the Turkish Airlines – Prize of Europe and in the RWE Prize of North Rhine-Westphalia with Contagious. Today, he placed his bets on his "old friend", the 16-year-old BWP-bred mare, HH Azur. The two put in an amazingly fast round, but unfortunately the pole fell at the last oxer before the finish line.
Then came Daniel Deußer and Killer Queen. The Soers roared, last year's winners were greeted with rhythmic applause. Deußer set off and stuck to his trusted concept – he didn't rush, simply relied on the scopey canter of his mare and didn't risk picking up any jumping faults. His strategy worked. They jumped clear in a time of 41.60 seconds. The crowd exploded. Deußer only pointed one finger in the air, it was too early to celebrate yet, he knew that. Because Scott Brash was the next to go.
He certainly set the pace with his Hello Jefferson. The rather small BWP-bred gelding is extremely nimble. He jumped with unprecedented power and seemed to start galloping before he had even landed. The clock stopped at 39.24 seconds. Nobody thought anyone could beat the time.
Nicola Philippaerts and Katanga van het Dingeshof courageously tried their hardest. His mare drew on all her possible resources. Especially when the turn before the last but one vertical didn't quite fit and the mare catapulted herself over it. But all of the poles stayed in place. And the time? 39.92 seconds, second place up until now.
What would Gerrit Nieberg do now? The commentator greeted him with the words: "So Gerrit, it is a good day to write history!" But nobody really thought the 29-year-old could pull off this feat. Would he merely try to ride home clear? Or would he try to beat Scott's time? After the first obstacles it seemed like he'd opted for a steady clear to take fourth place. The fifth obstacle in the jump-off was a double with a bush a few metres in front of it. Gerrit Nieberg calmly took the route that none of his fellow colleagues had dared take, namely in front of the bush. That saved him a few metres and a few canter strides. He came out of the turn and found the ideal take-off and his Ben jumped over the fence with ease. In flow they simply changed their direction and took a tight turn to the vertical that had almost sealed Nicola Philippaert's fate. Then, Nieberg and Ben changed gear and sped to the last obstacle, the Rolex oxer. The crowded stands got louder and louder, but the pair hadn't reached the finish line yet. But Ben flew over the last fence effortlessly. The clock stopped at 38.63 seconds. An incredible victory! The 40,000 spectators went wild, they shouted, whistled, stamped and clapped. Gerrit Nieberg took off his helmet and greeted his Aachen crowd with a broad smile. What a triumph!
"I asked my colleague during the warm-up whether I could do the turn to the double. And he said okay you can do it. So I did it and it was good." That's what one calls a total understatement. "It is still all unreal, everything. I didn't expect it to happen, it is a dream come true for me today. It was great, an amazing feeling." But he sees the fact that he has achieved something his father never managed to do differently: "My father achieved much more."
And his father was also responsible for bringing the winning horse, Ben, to their stables. The Westphalian-bred gelding was seven when he joined them four years ago. He was considered to be very difficult, Gerrit's mother, Gitta, reported. But her husband saw potential in the gelding and bought him. Together, the Nieberg family managed to win over the gelding's trust in order to achieve top performances. As we saw today, it was obviously worth the effort!
Scott Brash had mixed feelings: "Whether I am happy or disappointed? Both! I am absolutely delighted with Jefferson. He was amazing, he did everything I asked of him and more. Unfortunately, we didn't win because of this guy here to my right. He makes it harder and harder for me. I thought about taking the inside turn to the double. I thought I'd do in the jump-off, but when Daniel didn't go inside and he is really good at that, I thought about it again and when I came over the jump and saw the turn to the oxer, I thought, no. I knew if Gerrit would go inside he'd win, and he did it and did it very well. He really deserved to win today.!"
Of course, Nicola Philippaerts would have also preferred to win, but he was above all delighted with the performances of his mare, with whom he among others previously won team bronze with at the European Championships in 2021: "She is very special. She gives everything in the ring. She is very scopey, very careful. I think there is a room for improvement upwards, but she needs to gain a bit more experience and then I hope to have the chance to give it another shot in the Rolex Grand Prix 2023…
Press Release CHIO Aachen