A radiant sun, a lovely sea breeze and sublime sports entertainment, it was a beautiful summer's day at Knokke Hippique.
A new highlight in the three-week long equestrian experience was on the agenda today: the CSI 3* Grand Prix, presented by Henders and Hazel. The competition was fierce but after a nerve-racking jump-off, it was Cian O'Connor who managed to beat
them all. 
Cian O' Connor wins the Top Series CSI3* Grand Prix, presented by Henders and Hazel
« The biggest challenge will be for the riders, » Grégory Bodo explained before the start of the Henders and Hazel Grand Prix. « They will really need to have their heads in the game because I am presenting them with quite a few technical hurdles. » The renowned French course designer is known for his fluent, horse friendly, designs that put the pressure mainly on the riders' shoulders. Today was no exception. The first round proved to be a tough nut to crack for many top riders. Especially the beginning of the course was causing mayhem. Of the 57 competing riders only 8 made it to the jump-off.
With lots of twists and turns at the start, followed by some longer lines where horses can really pick up speed, the audience at the Zoute Plage arena was in for a treat. The first three riders Nina Mallevaey (France), Beth Underhill (Canada) and Laura Kraut (USA) all had one rail down. Opting for slightly wider turns but clearing jump after jump, the fourth rider to go, Belgium's Virginie Thonon, looked to be heading for the biggest win of her career. But no! A stop at the very end of the course! Halfway down the jump-off Kendra Claricia Brinkop and Nector vd Bisschop entered the arena: sensible turns, jumping big, speeding down to the last lefthand turn… We have our first double clear! After the next rider Max Sebrechts had one down, it was Cian O'Connors turn. With Taj Mahal taking big strides, they looked out to get Kendra. Succes! Double clear and 2 seconds faster. Would the last rider, who was also the fastest competitor in the first round, be able to beat him? No! Titouan Schumacher finished with 12 faults. The victory goes to Ireland!
"I was not expecting a win today. Taj Mahal is still only 9 years old. It is his first 3* Grand Prix and it's under lights. I am so happy his previous rider Dieter Vermeiren got to see him win here. He made the horse and I was able to take him to the next level: great teamwork."
Dieter Vermeiren was really emotional after Taj Mahal's win (ex Etoile van de Neerheide Z): "I cannot describe this feeling. We started out together when we were both young. Now he wins these amazing competitions. We have a great relationship with Cian. They are an amazing combination, especially because, instead of wanting to change the horse, he knows and reinforces his strongest assets."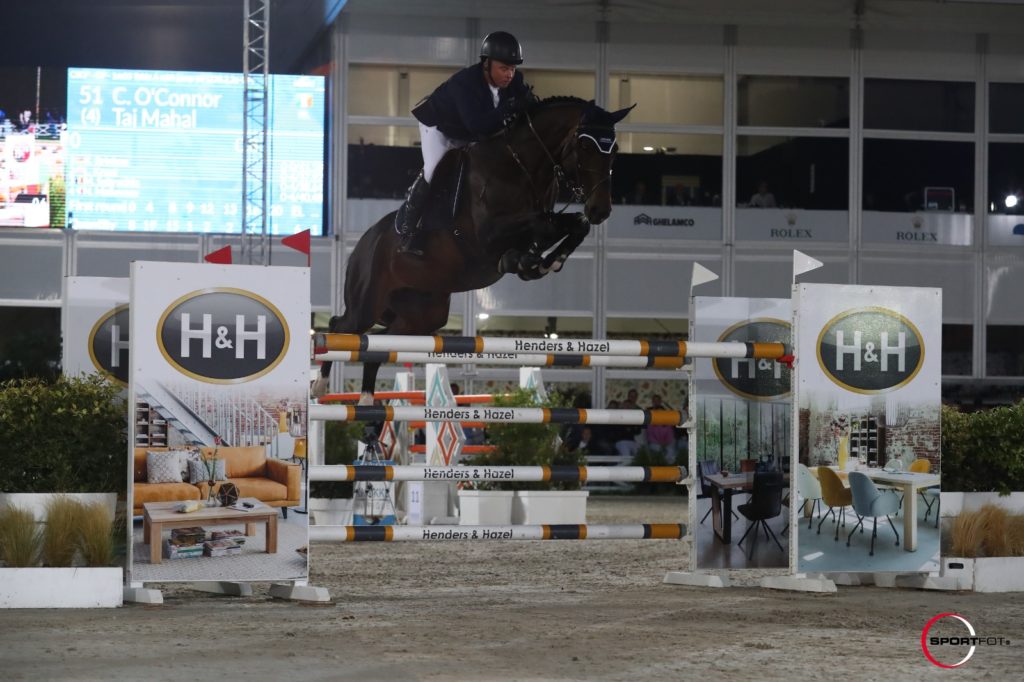 Dimme D'Haese on a winning streak

In this afternoon's Prestige League CSI1* Grand Prix (1m30), presented by Ghelamco it was Dimme D'Haese (Belgium) and the mare Ferluche de Kergas who were victorious. They made it out of a total of 76 riders qualified for the 1* Grand Prix and 26 combinations that managed to reach the jump-off. Norway's Therese Søhol Henriksen (Iron Maiden) came second. The bronze went to Stephanie D'Andrimont and Damaskus van de Kapel (Belgium). 
Dimme D'Haese has been doing remarkably well at Knokke Hippique. He already took home a CSI 1* win last week and a CSI 3* victory this Thursday. Thanks to his amazing result today, he is now in third place in the leading riders' ranking of the CSI 1* competition. Therese Søhol Henriksen is provisionally in second place and her fellow Norwegian Maria Louise Kingsrød is currently in the best position to take home the STX tackbox next Sunday.
Whoever is crowned as the leading rider at the end of the CSI 3* competition at Knokke Hippique wins a STX horse truck to drive for a year. At the moment Zoe Conter is in pole position. But with still more than a week to go, one of the other superstars at this event can still snatch away the title.

Press Release