Leaving Northern Ireland? No way, for Joanne Sloan Allen and Sameh El Dahan. The duo has welcomed Equi Book to their stables just a few miles outside Belfast. Welcome to Sycamore Stables.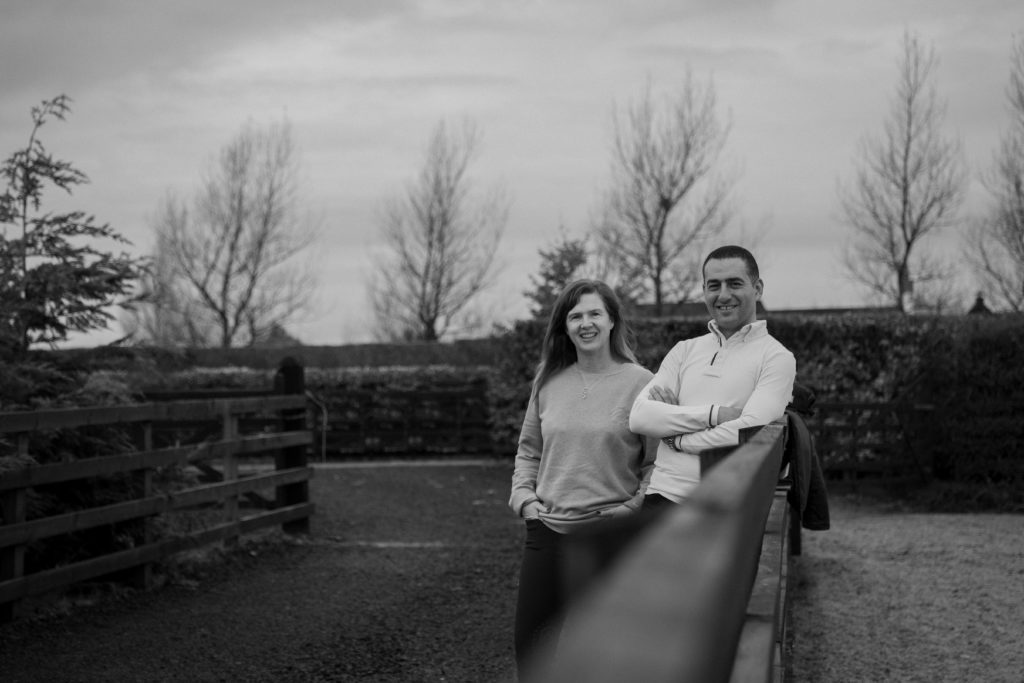 Framed by high hedges, the road winds through lush green countryside, pastures stretching as far as the eye can see, almost making you forget that we are just a fifteen-minute drive from Belfast. In the middle of this patchwork dotted with large oak trees, where the rain that has just stopped left large puddles here and there, a gate looks like any other in the residential areas of this part of Northern Ireland. We hesitate, until seeing on the off-white plaster of the wall a plaque with the name we're looking for: « Sycamore Stables ». Unknown to the public until a few years ago, Joanne Sloan Allen's stables had their moment of glory in the summer of 2018, when her explosive Suma's Zorro won the Calgary Grand Prix, ridden by the skilled Egyptian Sameh El Dahan. Here he is, waving from the large paddock where he is riding a young horse. « Settle down in the warmth of the club house, » says the man everyone here calls Sam. We'll join you in a minute.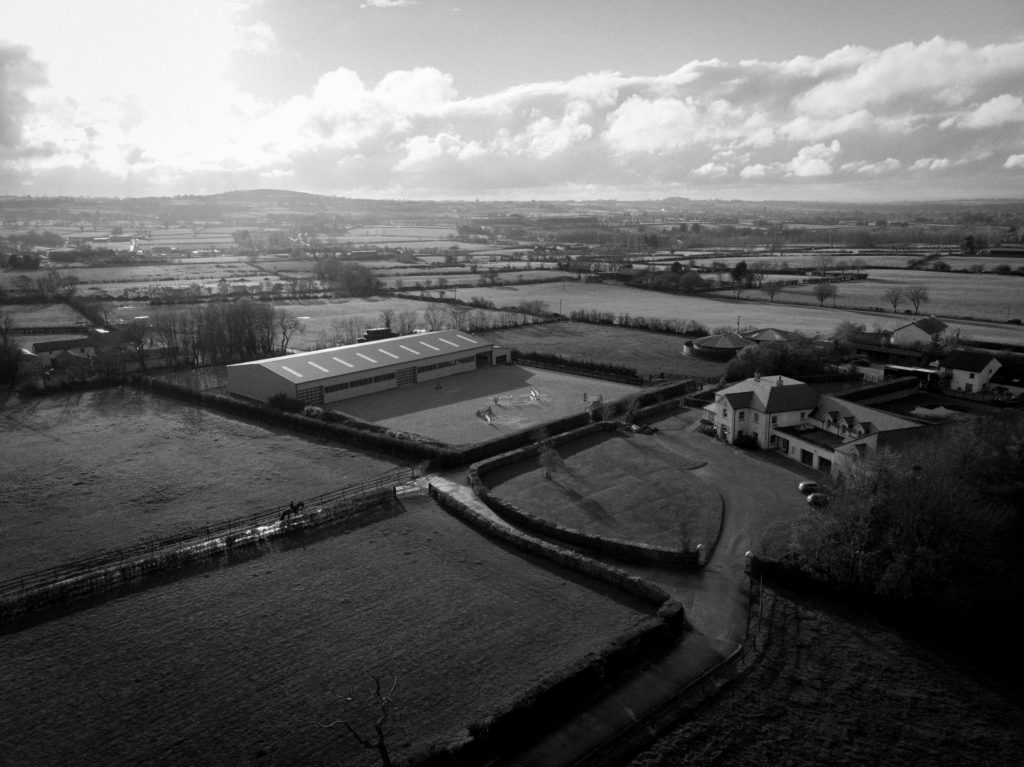 Behind the windows, the wind stirs the trees and the flower beds. In the room next to the riding hall, a simple tin shed with a wide opening onto the paddock, a ribbon of steam rises from the coffee cups on the wooden table. Joanne Sloan Allen's facilities are divided into three sites. There is Sycamore Stables, where the sport horses are stationed, and two other stables, both about five minutes' drive away, where the breeding horses enjoy huge green meadows. On the main site, the arena, paddock and stables are surrounded by a horse walker, lunge ring, gallop track and grass field, not to mention the many paths that grid the countryside, allowing Joanne and Sam's horses to enjoy the outdoors.
Northern Ireland may be a long way from the big shows, but the charm and peace of the place makes up for the long commute to the mainland. It's very important to us that our horses are happy and here they really are, » says the owner, azure blue eyes and bright smile. When we leave for a show, we don't leave the country for just one weekend, we make sure we have three or four weeks of competition. And then when you come back, you feel that the horses can really recharge their batteries. You know, it's like when you sleep in a hotel for a few days, what a joy it is to come back to your bed! »
A resounding success
Joanne Sloan Allen was born here, and it was here, right next to her parents' house, that she set up her stables. About ten years ago, she phoned Cian O'Connor to find a rider and the Irish Olympic medallist put her in touch with Sameh El Dahan, whom he had met during a course in Egypt. The connection was made, and the collaboration began. Since then, the tandem has achieved a number of feats, including one that did not go unnoticed: in 2018, Sameh El Dahan won the legendary Calgary Grand Prix. Associated with his generous Suma's Zorro, acquired at the age of 6 months by Joanne, the Egyptian won the main event of one of the most prestigious competitions in the world. The kind of achievement that changes a life. « Our sport is made up of ups and downs, says Sam. When you've had that kind of success, it helps you get through the tougher times, like the one I'm going through now. I know I can do it, so it keeps me motivated and keeps me going. »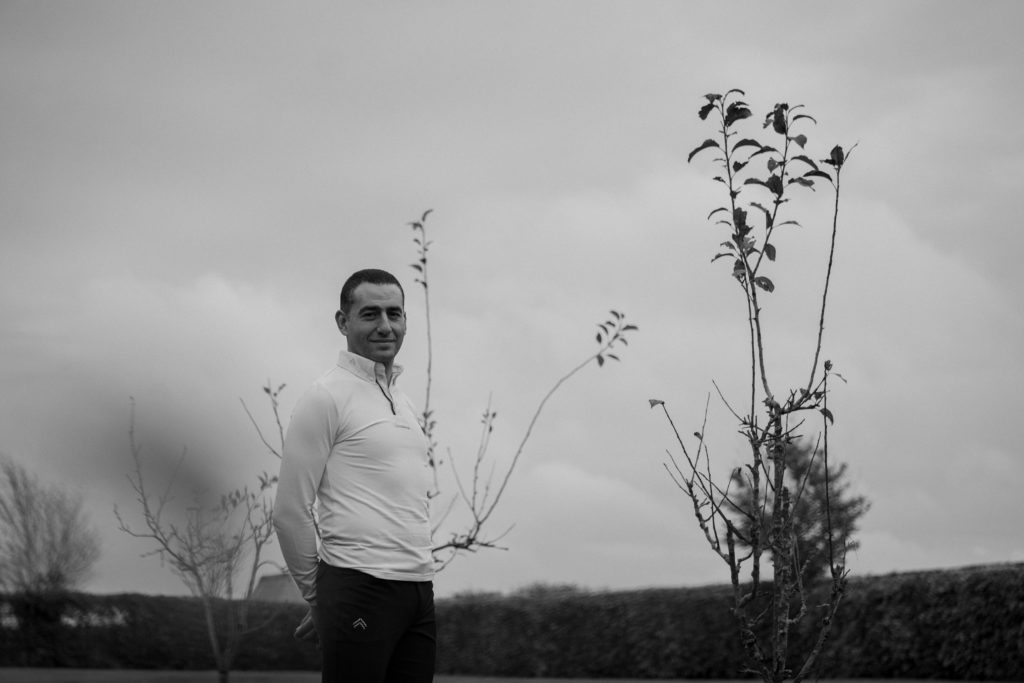 Olympic future?
The rest of the story, Sam will write in the colours of Great Britain. Following a non-selection at the Tokyo 2020 Olympic Games, for which he had helped Egypt to win a historic ticket, and other disagreements with his national federation, he decided in 2021 to change his passport. Nothing could be more normal than opting for Great Britain for the man who has been living there for over 10 years. In 2023, he will be able to run his first events under the British flag in the hope of being part of the European Championships before, why not, the Paris 2024 Olympic Games. Having competed in a World Cup final and two World Equestrian Games – Caen and Tryon – Sam can rely on some experience of these major events. A serious advantage. « You want me to tell you an anecdote? » he says over his coffee. « A few years ago, I had already made a clear round in the first leg of the Calgary Grand Prix. Between the two rounds, I got distracted by the calls and congratulatory messages I received. In the second run, I had three faults because I wasn't focused enough. In 2018, after my first clean run, I thought about that mistake. I was able to stay fully focused on my objective… and I won. » By the way, the rider confides that he is not only interested in equestrian sports, quite the contrary. « I am a sports fan in the broadest sense. I can tell you who won the last competition in just about any discipline. I'm fascinated by the great stories of athletes, it's success stories that inspire me. »
A proven system
To reach his next goals, Sam can count on three leading horses, WKD Aimez-moi, WKD Toronto and Wicked Enigma, all of them having followed the same route as the star of the stable, since they have been trained almost forever at Sycamore Stables. Because Joanne Sloan Allen and Sameh El Dahan like to forge their horses from an early age. « We give them time to grow up, and we don't judge them until they are six years old, » says Joanne. We know that our system works because many of our horses have reached the top level. I'm on my third generation of foals and they are all very good in their heads. I am convinced that the environment in which they grow up has a lot to do with it. »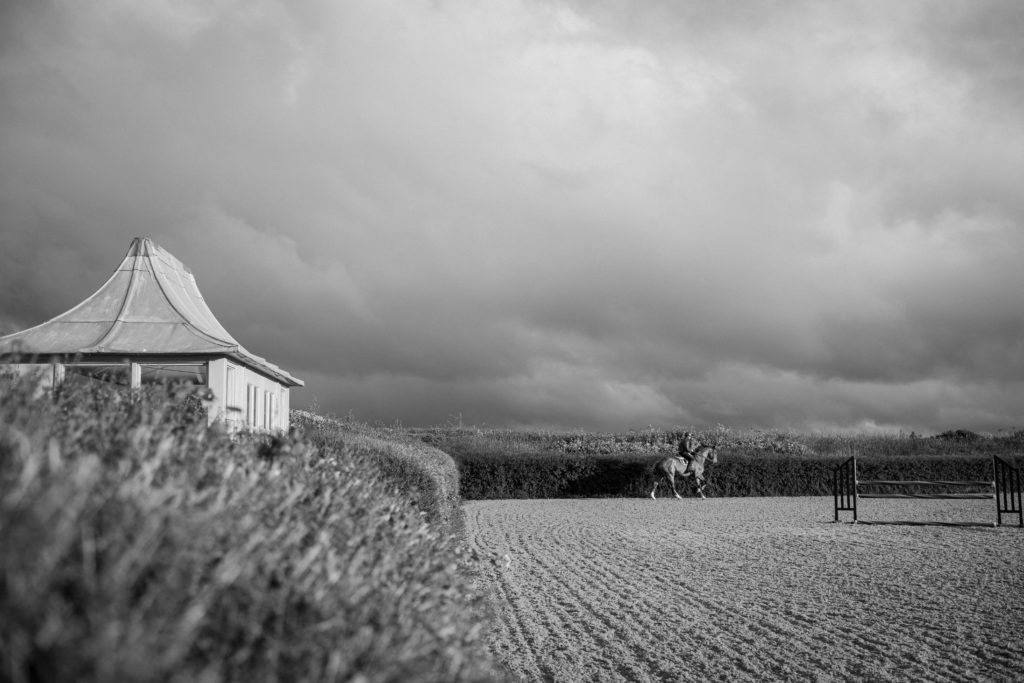 Each year between three and ten foals are born in Joanne's Northern Irish stronghold, which is home to around 100 horses in all. While the breeding operation is commercial and focuses on top-level sport, not all the horses are made to shine in 5*. « They are sold to amateur riders, and when they make them happy, I am very proud of them. It gives me immense happiness because I am deeply attached to my horses. »
Joanne's stallions of choice include Mylord Carthago, Emerald, Solid Gold, Je t'aime Flamenco or Quabri de l'Isle. « The main thing is that they match my mares. In 2023 we will have several foals from our leading mare Aimez-moi. One with Quabri and one with Tangelo. We are looking forward to it! » As for the WKD affix that precedes the name of each of the horses of the breeding, it pays tribute to the main sponsor of the stable, the company of Joanne's parents, which allows her and her rider to apprehend the future calmly.
From the North Atlantic, the wind does not weaken, agitating the hedges around the paddock whose sand seems to glow under a heavy sky. The light is fading, but it is not yet time to go inside to warm up. Joanne leaves for the round pen with one of her horses in hand, Sam pulls up his jacket collar and gets back in the saddle. Tomorrow's big events are being prepared today.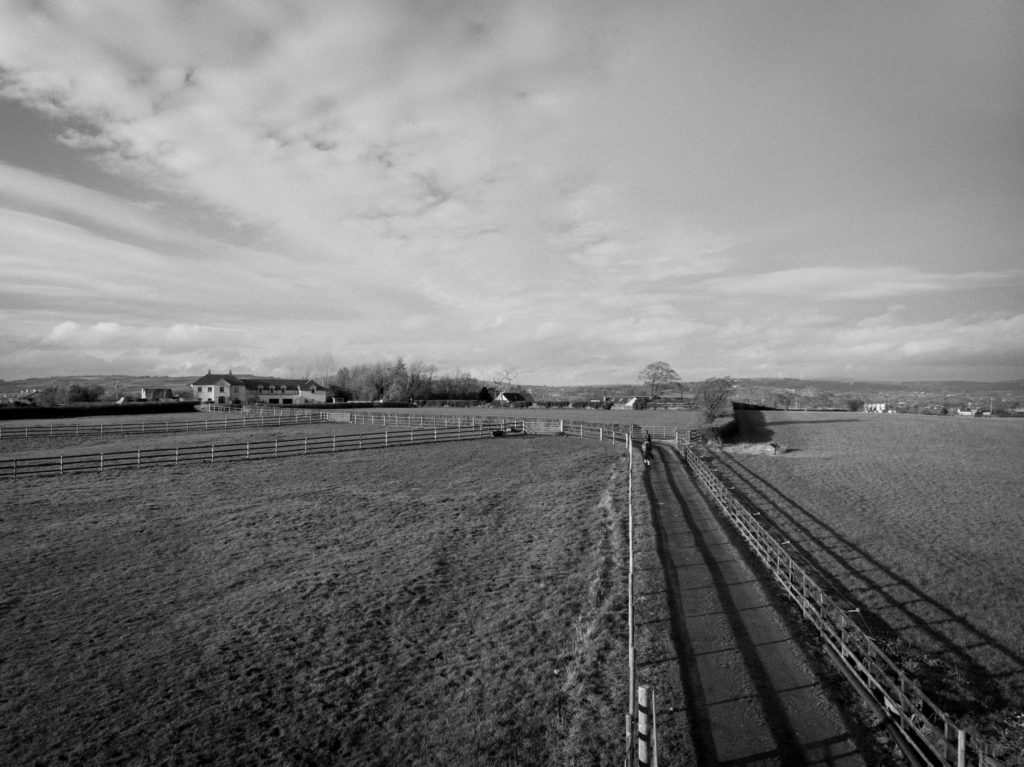 Suma's Zorro: a career girl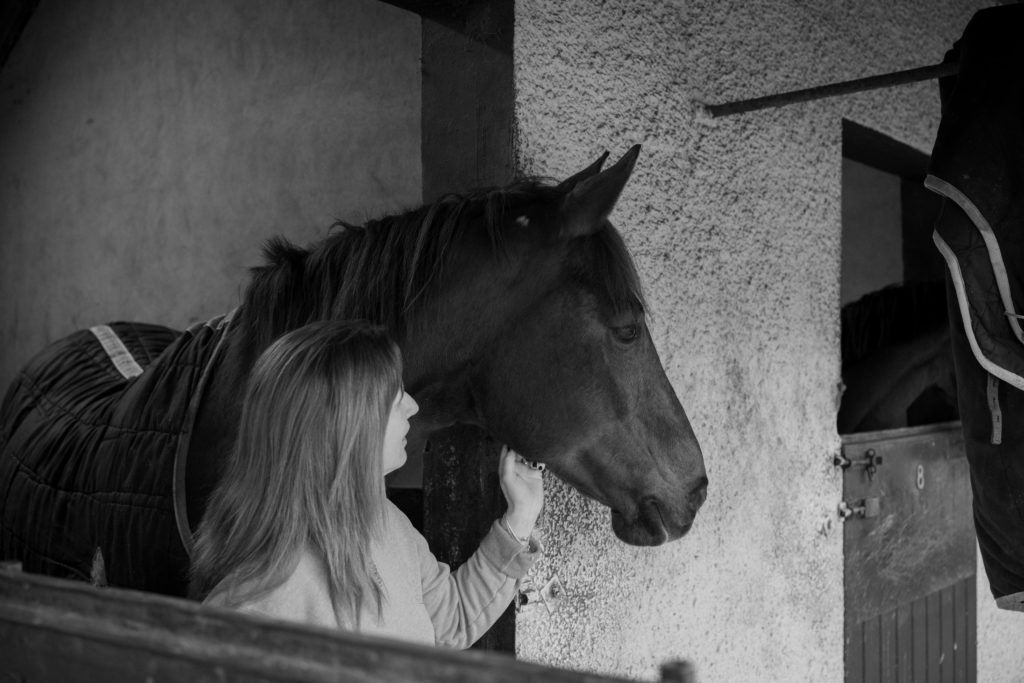 The little chestnut Suma's Zorro has a special place in the hearts of Joanne Sloan Allen and Sameh El Dahan. « She knows how to make herself understood and she understands everything, Sameh says. She still loves to jump, she loves to go to competitions, but she doesn't have the same ease to jump on 1.65m courses. I don't want to take her as a second or third horse, I can't do that to her, not after all she's given me.
But we don't want to retire her either, she has so much fun in competition. That's why Joanne is riding her now. » The pair also had a good run in Rome last September in the CSI 1*.So, is a Zorro foal planned? « It's a very delicate question at the moment, Joanne explains. Her origins are so special that I would be afraid of making a bad cross. I'm still thinking about it, but if I decide to breed her, I will cross her with a pony.
And I will use a surrogate mother, because I don't think she's interested in that: when there are foals around, the mares are all on the alert, except for her, who prefers to hide in the stable. Zorro is a true career girl! » What is certain is that if the pretty chestnut is no longer the number one athlete in the stables, she remains the number one in the hearts of the people at Sycamore Stables.
Follow Sycamore Stables on Instagram